Castle Cornet
Open March - November
---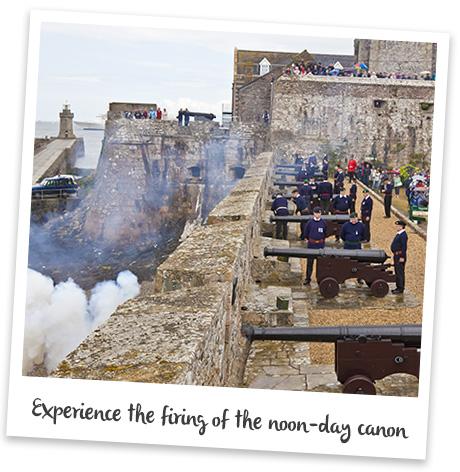 Castle Cornet is Guernsey's ancient harbour fortress, which was isolated upon a rocky islet until the construction of a breakwater and bridge in the 19th century.
Today, the Castle features five fascinating museums which tell the story of Guernsey's military and maritime history, and four well-researched "period" gardens.
Maritime Museum
Located in the Upper Barracks, the Maritime Museum is where you will learn about Guernsey's ancient relationship with the sea.
The museum also includes a gallery of marine art and a display about the Gallo-Roman wreck recovered from the nearby harbour mouth in 1985.
The Story of Castle Cornet
The exhibition was opened in 1997 and is located in the lower barracks building.
The displays interpret the history of Castle Cornet using a variety of reconstructions, replicas, models and original artefacts.
Here, you will be able to explore an interactive guide to Castle Cornet and a database of Castle illustrations, as well as an audio presentation about the great explosion of 1672, which destroyed much of the early castle.
201 Squadron RAF Museum
Guernsey's own museum celebrates the 201 Squadron's links with the Island, which date back to the 1930's, when their Southampton-based flying boats came on training flights and good visits.
The Squadron is currently the only RAF unit to retain such an affiliation.
Royal Guernsey Militia and Royal Guernsey Light Infantery Museums
They are two related military museums in the Castle's Hospital building which are the most recent developments in the Castle.
The Royal Guernsey Militia Museum, which was officially opened in May 2011, tells the story of the Militia from its 13th century origins as an island defence force to its 20th century disbandment on the formation of the Royal Guernsey Light Infantry.
The Royal Guernsey Light Infantry Museum tells the story of the Guernseymen who fought in the Great War.
The Hatton Gallery is a spacious gallery in the Upper Barracks building, housing portraits of local relevance.
The gallery is not normally open to the public, except for specific advertised events.
Top 5 things to do at Castle Cornet

Take a guided tour of the Castle - most days at 10.30 am
Watch the Noon Day Gun fired daily by soldiers in 19th century costume
Experience History in Action
Discover the four gardens
Watch the Guernsey Air Display from the Castle grounds in September