Fort Grey Shipwreck Museum
Open March - November
---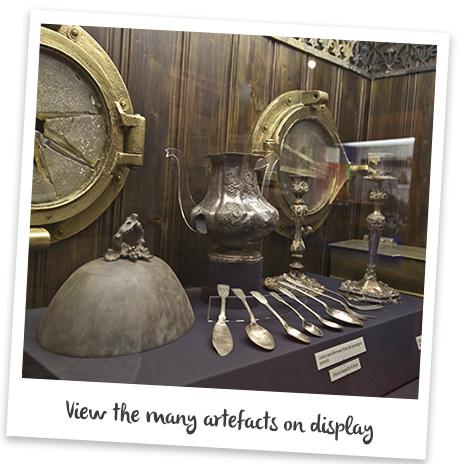 Affectionately nicknamed the "Cup and Saucer", Fort Grey is a Martello Tower located on a tidal islet at Rocquaine, on Guernsey's rocky west coast. It offers pretty views over the coast and onwards to Hanois Lighthouse.
It was built in 1804 to defend the Island's coastline, but its location near the infamous Hanois reef mean that it has been witness to many historic shipwrecks over the years.
Shipwreck Museum
Today, Fort Grey is home to a Shipwreck Museum, telling the stories of many of the vessels that have come to grief on this beautiful but treacherous coast.
The museum contains many artefacts salvaged from the wrecks and from their fascinating information panels you will learn the gripping tales surrounding the disasters which date from the HMS Sprightly in 1777 to the Vermontborg in 2003.
Inside an old magazine just oustide the walls, the Société Guernesiaise is giving information about the natural history of the area.
A roman ship, which sank around 280 A.D. off the Guernsey coast, is now displayed opposite Fort Grey at Guernsey Pearl. The remains of the ship were excavated and can be seen through a viewing window. Some of the objects found in the wreck are on display at Fort Grey as well as in the Maritime Museum at Castle Cornet. Plans are underway to fully reassemble the ship and display it in full in the near future.