Guernsey Museum & Art Gallery
Open All Year
---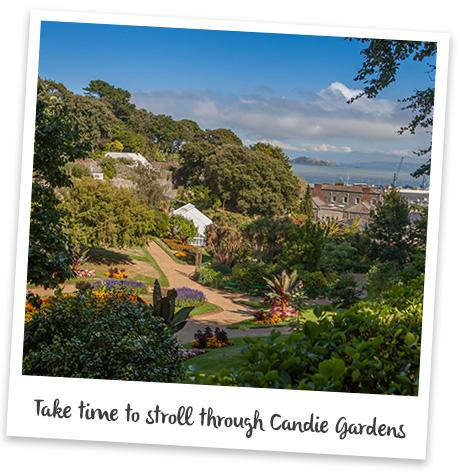 Guernsey Museum and Art Gallery is located in Candie Gardens, a late 19th century pleasure garden in St Peter Port.
Opened in 1978, the Museum's design incorporates the old Victorian bandstand from the garden into the structure and won a British Museum of the Year Award in 1979.
Admire the historic greenhouses during your visit.
The Story of Guernsey
The main gallery tells "The Story of Guernsey" and reflects the long and rich history of human activity in the islands. Venture through rooms with interactive displays, see prehistoric tools and celtic coins.
Families will particularly enjoy the Discovery Room with its interactive activities, old-fashioned games and dressing up box. It also hosts the "Cabinet of Curiosities" showcasing some of the unusual objects the museum has to offer.
Rona Cole Art Gallery
The Rona Cole Art Gallery, was opened in June 2012 by the internationally-acclaimed local artist, Peter Le Vasseur. It hosts nearly 200 light-sensitive water colours which are contained in specially built drawers.
Discover an abundance of Guernsey landscapes and Victorian portraits by various local and foreign artists.
The Brian White Gallery shows contemporary art.
Shop and Café
The Museum also features an audio-visual lecture theatre which is shared with La Société Guernesiaise and a shop selling a range of publications and souvenirs.
Café Victoria, located in the bandstand itself, serves light meals and refreshments in a setting with wonderful views over the islands.