The Little Chapel
Open All Year
---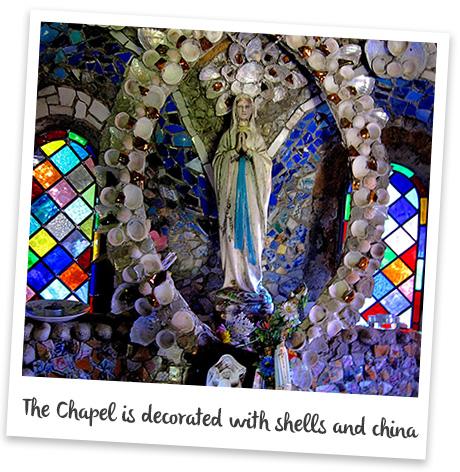 The Little Chapel is as much a curiosity as a work of art and definitely deserves a visit during your stay in Guernsey.
It was erected early during the last century by Brother Déodat – one of the Brothers of the Christian Schools - who tried to build his own version of Notre Dame Grotto in Lourdes.
The first version built in 1914, and only measuring 9 x 5 feet, was subject to critism after its construction. As a result, Brother Déodat demolished the small chapel and started again. The second grotto was well received, but still had to be demolished a few years later, after a visiting bishop could not fit through the narrow door.
What you see today is actually the third built chapel. It became famous after an article in a national newspaper. It is totally covered in pebbles, shells and broken bits of china and is potentially one of the smallest chapels in the world.
The entrance is free and the Little Chapel relies solely on donations to keep up with repairs.