Jersey Zoo
Open All Year
---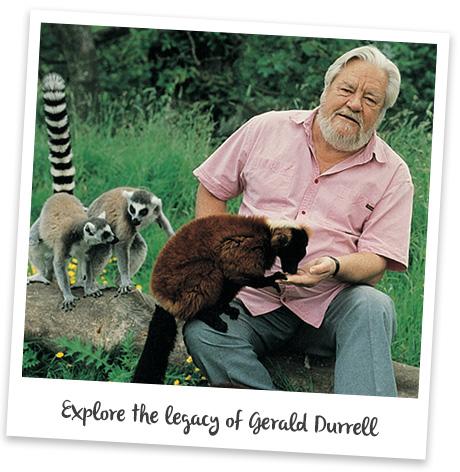 No visit to Jersey is complete without a visit to the Island's best-loved attraction, Durrell Wildlife Conservation Trust. Founded in 1959 as Jersey Zoo, the Trust is now an international charity and conservation body headquartered in Jersey.
The Durrell Wildlife Park is open all year, offering visitors to Jersey a chance to view some of the world's most endangered species within the beautiful surroundings of the park's 32 acres of extensive paths, manors, lawns, enclosures, lakes and visitor centres.
The Trust is home to 1,400 mammals, birds, reptiles and amphibians and over 130 endangered species. Sumatran orang-utans, Andean bears and Montserrat orioles, rescued from beneath the smouldering volcano, live in lush, spacious environments which closely replicate their native habitats.
Madagascar lemurs and tiny lion tamarinds from Brazil roam free in woodland, leaping through the trees. Other exhibits include a walk through aviary and a cloud forest housing otters, coatis and howler monkeys.
Founded by the world-renowned conservationist and author Gerald Durrell, the trust has gained a reputation across the globe as both a vital conservation body and an incredible experience for visitors to Jersey.
The Park features the excellent Café Firefly, open to both visitors and non-visitors, whose menus focus on locally sourced, fresh ingredients including produce from Durrell's own garden.
The site is also home to the Durrell Wildlife Hostel and the Durrell Wildlife Camp, an exclusive luxury camping experience set within the grounds of the park. And finally the Dodo Restaurant offers a family friendly menu to be enjoyed in the grounds of the park itself.
Saving Species From Extinction