Mont Orgueil Castle
Open All Year
---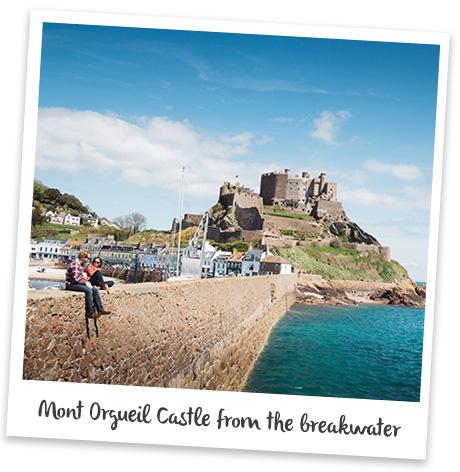 The magnificent Mont Orgueil Castle dominates the east coast of Jersey.
Historically, the Castle protected Jersey against French invasion for 600 years, but it is now open for the public to explore its maze of staircases, towers and secret rooms.
Climb the turrets to find the medieval "wheel of urine" and descend into the cellar to experience the "witchcraft" exhibit.
Life-size wooden soldiers guard the Castle from attack and the "wounded man statue" shows the fate that could befall those fighting to save the Castle from invasion.
The Castle is home to several exhibitions, including "The Queen" by light artist Chris Levine and holographer Rob Munday, which features, "Equanimity", a world-renowned holographic portrait of Her Majesty commissioned as part of Jersey's celebrations of its 800-year-old relationship with the monarchy.
Living History

The Castle also hosts many "living history" days and events, with actors bringing the past to life.

In recent years, Mont Orgueil has been host to Channel 4's Time Team as well as the canvas for ground-breaking film work during Jersey's very own Branchage Film Festival, proving that this fantastic heritage site is still evolving and contributing to modern Jersey history.
Top 5 things to do at Mont Orgueil
See the Dance of Death
Visit the Witches in Hell
Discover "The Queen" and "Equanimity"
See the unusual Wheel of Urine
Look at the list of soldiers garrisoned at the Castle in the 15th century