Island Hopper
Despite their proximity to one another, the Channel Islands have all maintained their own, unique identities. With the Island Hopper Tour you will be able to discover the best of what each Island has to offer.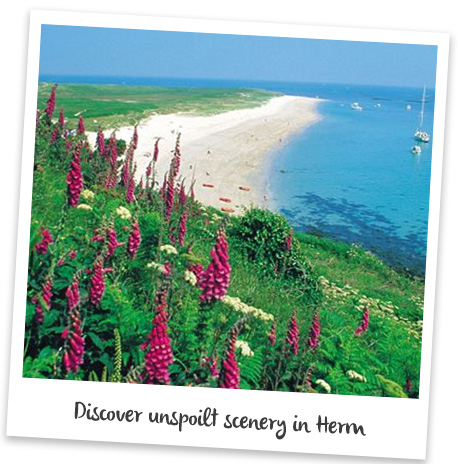 Day One - Arrival in Guernsey
You will be met on arrival by your local representative. The shuttle transfer will take you to your hotel and you will be briefed on your Guernsey itinerary later that day.
Day Two - Herm
A day trip to Herm is very popular with visitors and only a 20 minute boat ride from Guernsey. Discover the unspoilt little island with its sand dunes and golden beaches. Vehicles are not allowed, but you can easily explore the island and its unique character on foot.
Day Three - Guernsey
Day at leisure when you can discover Guernsey at your own pace, for example hiking on the scenic cliff paths and enjoying interesting sights and activities.
Alternatively, enjoy a guided Island tour (English or German tours are available) that will offer you a comprehensive tour around the island with many fascinating facts about island life and Guernsey's long history.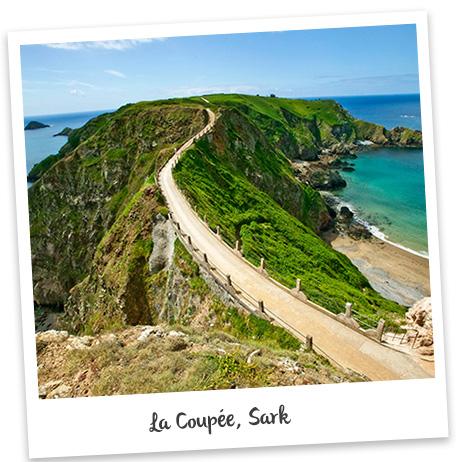 Day Four - Sark
Enjoy the 45-minute boat road before discovering the car-free island with its unique tranquillity. Sark is the smallest of the four main islands and can be easily explored on foot, by bicycle or a scenic horse and carriage ride. Make sure to stop at La Seigneurie Gardens, one of Sark's most popular attractions.
Day Five - Travel to Jersey
Bid farewell to Guernsey to travel to its big sister Jersey. You will be met on arrival by your local representative and the shuttle transfer will take you to your hotel. You will be briefed on your Jersey itinerary later in the day.
Day Six - Jersey
Get the most out of your stay, by joining one of the many guided tours on offer and learn about Jersey's rich history and culture.
The day is all about Jersey and its fascinating and diverse landscape. Departing from St Helier, you will drive along the island's coastal route anti-clockwise. Discovering the strongly tidal dependent beaches in the south and the rough cliffs in the north. Several photo stops will be included, so you get the chance to see the impressive Mont Orgueil Castle in the east, and the beautiful pebbled beaches hidden away across the north and Jersey largest beach and surfer's paradise of St Ouen's Bay in the west. You will also stop for the perfect holiday picture at one of Jersey's landmarks, the beautiful snow white Corbiere Lighthouse at the very south-west tip of the island and the sunny St Brelade's Bay in the south.

Day Seven - Day at Leisure
Day at leisure to enjoy Jersey's plentiful activities and attractions.
Day Eight - Departure
Your booked shuttle will transfer you to the harbour or airport in time for your departure.