Island Hopper
Despite their proximity to one another, the Channel Islands have all maintained their own, unique identities. With the Island Hopper Tour you will be able to discover the best of what each Island has to offer.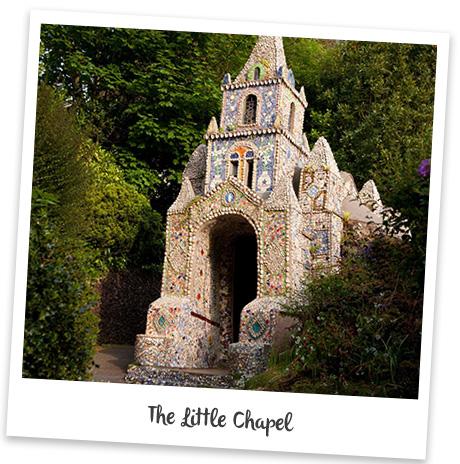 Day One - Arrival in Guernsey
You will be met by your local guide on arrival in Guernsey and transferred to the hotel for check-in.
Day Two - Full Day Tour
The tour will begin by following the beautiful Guernsey coastline passing through Val de Terre, the former garrison of Fort George and Sausmarez Manor, whose subtropical gardens have been recommended by the Royal Horticultural Society. The tour will then continue along the west coast of the Island taking in its many picturesque beaches such as Perelle Bay, Vazon Bay, and Cobo Bay, perhaps the most popular of the beaches along the west coast. Next, the group will visit the Little Chapel, which is beautifully decorated with seashells, pebbles and colourful pieces of broken china and thought to be the smallest chapel in the world. Time allowing, you will also stop at Dolmen Dehus, giving you the opportunity to explore Guernsey's second largest Neolithic tomb, and at St Martin's Church, which is well known for its Neolithic statue-menhir thought to date from approximately 2500-1800BC. Further sightseeing can be added to your requirements.
Day Three - St Peter Port & Herm Island
Take a morning stroll through St Peter Port, arguably the prettiest town in the Channel Islands and learn about its rich history dating back to Norman times. The capital consists of lovely cobbled streets, steep steps and narrow lanes lined by old shop fronts and impressing houses. The morning will end with a tour of Candie Gardens, the award winning, restored Victorian gardens with splendid views across St Peter Port harbour. Candie Gardens offer a rare example of a late 19th century public flower garden and are home to the oldest known heated glass-houses in the British Isles, which date back to the late 18th century. The afternoon will take you to the little island of Herm. Walk around the car-free island and the sandy beaches that have an almost Caribbean feel.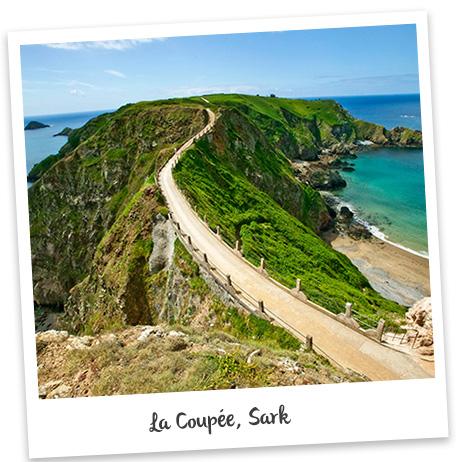 Day Four - Sark
The day will be spent in Sark, the last feudal state in Europe, where cars are also forbidden. As there are no motor vehicles on the island except for tractors, you will explore everything that Sark has to offer either on foot, by bicycle or horse and carriage. In addition to the selection of quaint shops and cafes to be found in the Island's main village, you will discover beautiful scenery with an abundance of wildflowers and sea birds, as well as the Island's 22 miles of stunning coastline and dramatic cliffs, concealing picturesque inlets and secluded bays. A visit of the famous La Seigneurie Gardens, one of the finest formal gardens in the Channel Islands, can also be arranged.
Day Five - Travel to Jersey
Today, you will be leaving Guernsey and cross over to the largest of the Channel Islands, Jersey. You will be met by your local guide on arrival and transferred to the hotel for check-in.
Day Six - Full Day Tour
Enjoy an all-day island coach tour and take in Jersey's breath-taking scenery, varied landscapes and beautiful cliff coast. Head eastwards from town past La Rocque and towards the pretty harbour town Gorey with the magnificent Mont Orgueil Castle. Stop here to visit the castle that protected Jersey from the French invasion for over 600 years. Carry along to St Catherine, Rozel and Bouley and further along through leafy little roads and tucked away bays until you hit St Ouen's Bay, a five mile stretch of beach which is a firm favourite with both locals and tourists alike. The coach will then join the south coast of the island at Corbière, whose rugged scenery and iconic white lighthouse have made it one of the most photographed spots. The tour will then continue down to the breath-taking St Brelade's Bay, which is arguably the island's most beautiful bay and onwards to the spectacular cliff-top views at Noirmont. Return back to town via the charming fishing village of St Aubin.

Day Seven - Day at Leisure
Day at leisure to relax and discover Jersey at your own pace. Alternatively this day is ideal for a walking guided tour of St Helier or an afternoon cliff walk with Cream Tea.
Day Eight - Departure
Enjoy a leisurely morning before you are transferred to your departure flight or ferry.