Guernsey Literary and Potato Peel Pie Society Experience
Engage in a week-long tour of beautiful Guernsey and its neighbouring islands. Just like Mary Ann Shaffer and her heroine Juliet, you will soon fall in love with this island. Explore the beautiful coastline, learn about the islands' history, meet friendly islanders and taste some scrumptious locally sourced food.
Day One - Arrival in Guernsey
Arrive by ferry from Poole following the journey Juliet embarked on when travelling from England to Guernsey for the first time. Sail past the most northern of the Channel Islands, Alderney, and onwards to pretty Guernsey. Don't miss the views onto Sark and Herm on the way to the harbour.
The harbour town of St Peter Port is widely regarded to be the Channel Islands' most beautiful town and has retained lots of its Norman heritage. You will soon see why Juliet fell in love with this place almost instantly.
On arrival in Guernsey, you are met by your representative and transferred to your chosen hotel for check-in together with other arriving clients.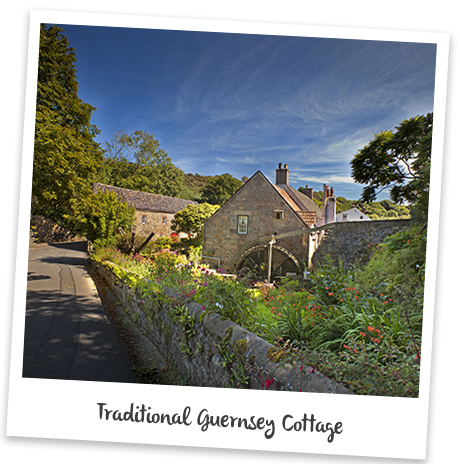 Day Two - Potato Peel Pie Tour (4.5 hours)
Today, you will follow the story and places of the Guernsey Literary and Potato Peel Pie Society tour in a specially modified sight-seeing Landrover Defender, allowing space for up to 11 guests.
On this guided tour of Guernsey you will travel through town & country, seeing cliff views and dolmens, passing beautiful Guernsey cottages and traditional granite farmhouses. Travelling down some of Guernsey's quaintest lanes and culminating in a visit to the Occupation Museum (entry price is included), you'll leave having truly experienced the island that inspired the book.
With a stop at an independent local café you can get refreshments and have a chance to stretch your legs on one of Guernsey's most beautiful beaches, looking out over the traditional fishing boats.
The tour will finish in Market Street where you'll find the Market Buildings (and maybe see Isola selling some of her concoctions!)
Whether you've read the book or not, if you're going to visit Guernsey this tour will show you sites you'd never find by yourself.
Day Three - St Peter Port & Herm Island
Take a morning stroll through St Peter Port, and learn about its rich history dating back to Norman times with one of the experienced local guides. Tours start in front of the Guernsey Information Centre. The capital itself consists of lovely cobbled streets, steep steps and narrow lanes lined by old shop fronts and impressive houses. Walk the streets that saw the German soldiers parading through after landing in Guernsey in 1940. Follow Juliet's footsteps on her numerous walks to the post office and see the hotel whose roof Dawsey helped to fix. The former Crown Hotel, now the Ship & Crown pub, is ideal to finish of the town walk with a cold beverage or a hearty lunch.

In the afternoon, you can go to the little island of Herm. Herm is an untouched haven of idyllic white sand beaches, secluded bays, green commons, sand dunes and spectacular cliff walks. Herm Island is only 3 miles from the coast of Guernsey and measures just a mile and a half long and half a mile wide. Herm's main village consists of a charming cluster of cottages, restaurants and a traditional pub and gift shops.
Despite its size, there is plenty to see in Herm, such as the tiny 11th century chapel with its beautiful stained glass windows, Neolithic tombs, oxen shoeing stocks dating back to the residency of Trappist monks in the 1800s and one of the smallest prisons in the world.
Day Four - Guernsey
Enjoy some days at leisure to explore Guernsey at your own pace. The island offers a number of activities for all interests and ages.
You can visit Castle Cornet, which has guarded the harbour for 800 years or learn more about Guernsey's history at Guernsey Museum. Follow the life of Victor Hugo by visiting the famous Hauteville House or enjoy one of the self-guided book themed walks. You can also hire a bicycle to explore the little lanes and countryside of Guernsey.
Day Five - Guernsey
Day at leisure.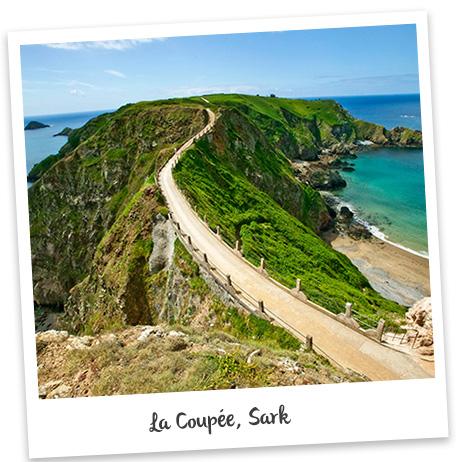 Day Six - Sark
Six miles east of Guernsey and only 20 miles from the coast of France lies Sark, the smallest of the four main Channel Islands, and the last feudal state in Europe.
With no cars on the island - except tractors - and a residential population of a mere 600 people, it is easy to see how the island has earned its reputation as a 'step back in time'. This absence of vehicles creates a leisurely and relaxed pace of life, which entices visitors back to Sark year after year.
Sightseeing can be done on foot, by bike, or from a horse and carriage, with a mixture of the three perhaps best enabling visitors to experience everything that the island has to offer.
In addition to the selection of quaint shops and cafes to be found in the Island's main village, you will discover beautiful scenery with an abundance of wildflowers and sea birds, as well as the Island's 22 miles of stunning coastline and dramatic cliffs, concealing picturesque inlets and secluded bays. A visit of the famous La Seigneurie Gardens, one of the finest formal gardens in the Channel Islands, can also be arranged.
Day Seven - Guernsey
Day at leisure.
Day Eight - Departure from Guernsey
You will have to bid farewell to the beautiful island of Guernsey.
Shared transfer for your departure.
The Itinerary Includes
Day 1

Ferry from Poole to Guernsey + Meet & Greet by English speaking representative + shared transfer to the hotel.

Day 2

Potato Peel Pie Tour with Tour Guernsey (4.5 hours).

Day 3

Walking guided tour through St Peter Port (approx. 2 hours) + return ferry to/from Herm.

Day 4

Day at leisure.

Day 5

Day at leisure.

Day 6

Return ferry to/from Sark + return tractor transfers to/from village + entry to Seigneurie gardens

.

Day 7

Day at leisure.

Day 8

Shared transfer to the harbour + ferry to Poole

.
Price based on 4-star hotel: from £863 per person
Price based on 3-star hotel: from £786 per person
Some more...?
Learn about 1000 years of local history during a visit of the Guernsey Tapestry.
Visit Priaulx Library, a unique visitor centre for the study of the island's history and genealogy.
Take in the breath-taking scenery during a coastal walk.
Add a bus pass and enjoy the extensive bus system to take you to almost every part of the island.
Book yourself on a kayak trip around the beautiful coastline.